mechanical-biological wastewater treatment plants
PUROPOSE
The PRO PREMIUM MBBR Delfin is a line of modern household-level treatment plants dedicated to the areas without a sewage system. They are a perfect solution for owners of small plots of land, as they require only 2.6-4.9 m2 of space for development (*depending on the type) given for the tank.
The treated sewage can be discharged to a water receiver or to the ground in several ways, e.g. through an absorbent well, drainage, drainage packages. It is also possible to discharge treated sewage into a ditch or river.
PRO PREMIUM MBBR DELFIN GUARANTEES EXCEPTIONALLY HIGH CONTAMINATION REDUCTION:
Bzt5 – up to 98%
Chzt – up to 98%
General suspension– up to 98%
AVAILABLE OPTIONS
DELFIN PRO 6 – sewage plants 6 RLM. Range from 3 to 6 people
DELFIN PRO 12 – treatment plants 12 RLM. Range from 6 to 12 people
DELFIN PRO 24 consist of 2 pcs of DELFIN PRO 12 – treatment plants 24 RLM.
MBBR (Moving Bed Biofilm Reactor) technology – use of a moving (fluidized) biological deposit supported by active sediment
Control cabinet with controller and blower
Low energy consumption: 0.32 kWh/d for PRO 6, 0,48 kWh/d for PRO 12
Material: high density polyethylene (HDPE)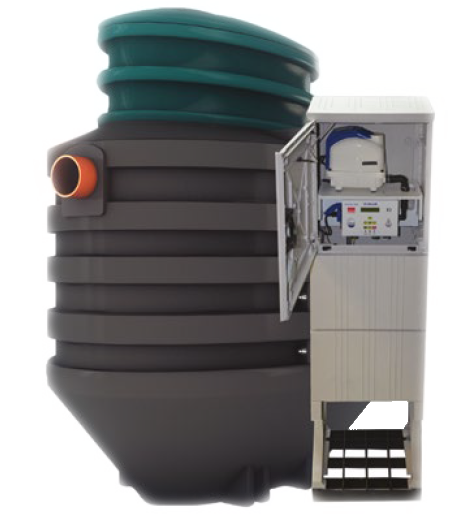 | DELFIN wastewater treatment plants | Usage | Daily flow | Weight with control cabinet |
| --- | --- | --- | --- |
| PRO 6 | 6 RLM | Qd = 0,90 m3/d | 203 kg |
| PRO 12 | 12 RLM | Qd = 1,80 m3/d | 283 kg |
*Marketing and technical documents avilable on request – please ask Export Department
The quality of the treated wastewater complies with EU requirements
 Stability of operation
High efficiency with uneven sewage discharge
Low costs of wastwater treatment plant opearation
Automatic day / night operation
Alarm signaling (in case of incorrect operation of blowers and solenoid valves) integrated with the control cabinet
No need to use biopreparations
Simple assembly and operation
10-year warranty on the tank – warranty for electronic eqipment specified by the manufacturer
Extension shaft as option