/

/

Modular treatment plant PENSJONAT...
MODULAR TANKS AND WASTEWATER SYSTEM PLANTS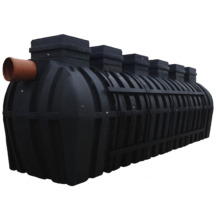 Delfin pensjonat PRO Premium
Delfin Pensjonat PRO Premium
PURPOSE
Delfin Pension Pro Premium is a modern and effective sewage management for facilities deprived of access to the collective sewage network. Modular sewage treatment plants Delfin Pensjonat Pro Premium are designed according to the investor's individual needs, serving up to 300 people who are temporarily or permanently resident. They are used for larger facilities than single and multi-family houses, e.g.: communal sewage treatment plants, housing estate sewage treatment plants, agritourism, schools, hotels, restaurants, public facilities, etc.
Delfin Pension Pro Premium has full automation of the sewage treatment process (microprocessor controller with memory and traffic lights in case of service or failure, automatic restarting after a power failure, built-in overvoltage fuses). Robust and durable construction ensures reliable operation for years. Very high cleaning efficiency allows for periodic emptying of the tank from sludge. Pro Premium guesthouses have lockable, independent manholes, which guarantee safety, ease of service and operation.
MBBR technology (Moving Bed Biofilm Reactor)
Control cabinet with the possibility of retrofitting with a www module included
Easy to clean
No additional surface coating is necessary as with other materials
Low weight – easy transport and assembly
Resistant to stress fluctuations
Material: high density polyethylene
Extension NSP 950 – height: 350 mm
PKP 950 cover
Model
Equivalent number of residents
Performance
[m3/d]
Volume of tank 1
[m3]
Volume of tank 2
[m3]
Volume of tank 3 [m3]
Volume of tank 4 [m3]
Lenght
[mm]
Width
[mm]
Height
[mm]
Appliance surface**
[m2]
PENSION 30
30
4,5
nd.
5*
5*
5*
4480
2240
2450
10
PENSION 40
40
6
5*
5*
5*
5*
6240
2240
2450
14
PENSION 50
50
7,5
10
5*
5*
5*
7280
2240
2450
17
PENSION 60
60
9
10
5*
5*
5*
7800
2240
2450
17
PENSION 70
70
10,5
10
10
10
10
12480
2240
2450
28
PENSION 80
80
12
10
10
10
10
12480
2240
2450
28
PENSION 90
90
13,5
10
10
10
10
12480
2240
2450
28
PENSION 100
100
15
15
15
10
10
15600
2240
2450
35
PENSION110
110
16,5
15
15
10
10
15600
2240
2450
35
PENSION 120
120
18
15
15
15
10
17160
2240
2450
38
PENSION 130
130
19,5
20
20
15
15
21840
2240
2450
49
PENSION 140
140
21
20
20
15
15
21840
2240
2450
49
PENSION 150
150
22,5
20
20
15
15
21840
2240
2450
49
** Surface without taking into account fieldwork
*The capacity of the chambers
*Marketing and technical documents available on request – please ask Export Department
Pensjonat Pro Premium sewage treatment plants designed for individual requirements for investors
Low costs of operation guarantee a quick return of investment
Self-service devices guaranteeing the comfort of use
Low weight of the tanks – easier and cheaper transport
Relatively small dimensions – easy montage – lower costs of instalation
Independent manholes – easy to service and carry out operating activities