PUROPOSE
Underground tank for collecting and storing rainwater.
DELFIN RAIN tanks can be part of a system for garden irrigation or for supplying domestic and commercial sanitary installations. The demand of the area includes only the area needed for the tank foundation or, if there is no sewerage system, the area of an absorbent well or a seepage drain.
Delfin offers rainwater tanks equipped with pumps (versions  A, B)  or wihout installed pumps (version 0).
Monolithic PE-HD construction without joints and welds, with reinforced ribbing
Non-replaceable polyethylene filter basket with sponge
PVC extruded ventilation hole fi 110, inlet fi110
Polyethylene extensions and twist cover
Possibility of selecting every pump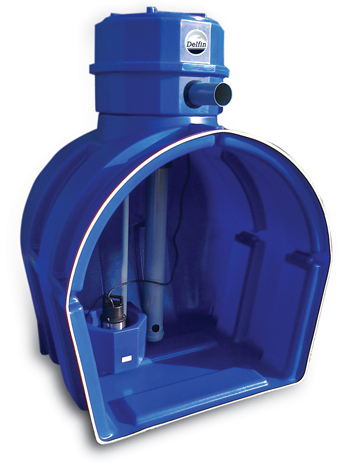 VERSION A – WITH FLOATING PUMP
VERSION B – WITH PRESSURE PUMP
Symbol
Volume
[l]
Lenght
[mm]
Height
[mm]
Inflow Height
[mm]
Outlet Height
[mm]
Width
[mm]
DELFIN RAIN 2000
2000
2000
1700
1350
1320
1260
DELFIN RAIN 3000
3000
2300
1900
1535
1510
1400
DELFIN RAIN 4000
4000
2340
2020
1645
1620
1700
DELFIN RAIN 5000
5000
2400
2200
1770
1745
1800
*Marketing and technical documents available on request – please ask Export Department
SAVINGS – reduce water consumption up to 40%
INDEPENDENCE – become independent from restrictions on access to water during drought
CONVENIENCE – use rainwater for garden watering, washing the car, cleaning toilets